Frequently asked questions
How much does this cost?
---
We have 3 options or packages: Advanced, Superior and Ultimate. Prices are based on two factors: car size and age. While our coating costs are typically less expensive than other brand coatings, you will need to contact us directly to get a specific quotation for YOUR car. Go to main or home page and send us a request for a quotation.
---
How long will coating take?
---
Typically we finish a car in about 5 hours. While some days are busier and some cars because of blemishes will take more time, 4 - 6 hours are average. We need you to make an appointment and we work on cars in the order that they come in, so come on time. We are faster for 3 reasons. We don't need heat lamps to dry our coating as our coating is pure. We have several paint restorer craftsman working simultaneously on your car. We don't need multi layers (one layer is enough) as our coating is pure SiO2. Our coating is thick and bonds quickly.
---
Why is coating "purity" important?
---
Sierra Glow has achieved the an incredibly high level of purity by using high heat to burn off all impurities in the manufacturing process. While expensive to do this, the purity means our coating is thick and dries within 10 minutes of applying. Because of the thickness of our coating, we get much better shine and protection than other coatings. We don't need emulisifers or Volitle Organic Chemicals (VOC) to help our coatings dry or bond to the clear coat. This saves you money as multi layers are not necessary.
---
Do you have a warranty?
---
We have a great warranty. We call it No Nonsense. If you are not happy with the shine or coating for whatever reason, we will take care of it without any questions. You don't have to come back for yearly recoating or maintenance. We provide both a 5 year or 10 year warranty depending on the coating you choose.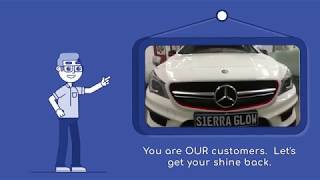 ---
What is Luminosity?
---
This is our 7th generation of car coating. Our chemist/inventor, Mr. Sato is really proud of this coating as it is vastly superior. Less watermarks and great bonding to the clear ceating, Luminosity is clearly superior. Watch the video to learn more.
---
What is Blue Flame?
---
Blue Flame is the latest nano coating technology in which the Glass Primer coating is super-charged in the applying the coating. This flame burns off surface impurities AND adds a thin layer of coating on top of the clear coat. Because the coating is super-charged nano, the coating fills in all the micro porous blemish that exists on all paint. This makes the paint surface ultra smooth and silky smooth. In addition the Blue Flame creates a bond layer between the clear coat and the applied coating we do IMMEDIATELY' after the Flame. This means our coating adhere or bonds to the car paint like super glue. Finally the layer of Blue Flame creates the best glossy wet look available in the market.
---
---